Course details
[Limited] All 11 dishes 3.0H All-you-can-drink Agu pork W pot ~ Shabu Shabu & Sukiyaki course ~ 6,500 ⇒ 4.900 yen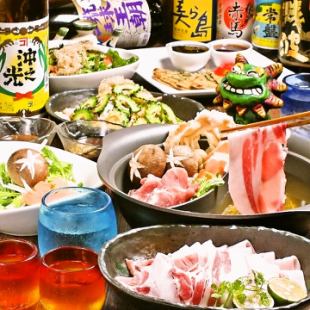 By using a coupon4900 yen
All-you-can-drink available

Premium malts, sour, cocktail, plum wine, 30 kinds of Awamori are all you can drink ☆
Reservation deadline

Until 21:00 on the day before the desired store visit
Available days for reservation

Monday - Sunday - Public holidays - Holidays
[For autumn / winter banquets! Year-end party / New year party centerpiece course] One of the world's three major pigs "Agu pork" sukiyaki and shabu-shabu can be enjoyed at the same time! Sweetness and taste spread infinitely Enjoy the finest fat and the highest level of red meat!
Course menu
[NO1 course popular for various banquets and gatherings in winter]
W main is very popular!
Phantom Island Pork Agu Pork Shabu Shabu & Sukiyaki Course
"Agu pork W pot course"
All 11 items 3.0H with all you can drink
2.5 hours on the day before Fridays and Saturdays
------------------------------------------
Small bowl
■ Assortment of 3 kinds of appetizers
· Brown beans
・ Crushing mimigger
・ Arthur roll egg
■ Petit Sea Grape Salad
■ Today's Champuru
■ Agu pork W pan ~
· Shabu Shabu
・ Sukiyaki ~
■ Hirayashi
■ Okinawa Okinawa soba
■ Blue Seal Ice
------------------------------------------
* More than 4 people
※ Friday, Saturday, the day before holidays 2.5H system
All-you-can-drink menu
·beer
· The Premium · Mortz
·sour
・ Oolong High / Lemon Sour / Grapefruit Sour / Mango Sour / Guba Sour / Pineapple Fruit Sour / Turmeric High / Shiquawa Sour / Highball
·Cocktail
・ Gin Tonic / Moscow Mule / Vodka Tonic / Cassis (Soda, Oolong, Orange, Grapefruit) / Litchi (Soda, Oolong, Orange, Grapefruit)
·Plum wine
・ Honey plum wine / Navy blue plum wine / Tida plum wine
· Awamori
・ Kariyushi
·Soft drink
・ Oolong tea / Sampin tea / Sikhwasa juice / Orange juice / Grapefruit juice
・ Shochu / Awamori (+500 yen)
・ [Barley shochu] Yaemaru / Milky Way / Wanko [Sho shochu] Kuro Kirishima / Kido / Nanko [Awamori] 轟 / Hundred Year Dream
・ Plum wine (+500 yen)
・ Red plum wine (brown) / brown sugar plum wine (brown sugar) / green tea plum wine (green tea) / black vinegar plum wine (black vinegar) / Shiratama plum wine (brandy) / Okimatsu sky moon (barley shochu)
Coupons that can be used with this course
2019/09/30 update