Course details
Premol & plum wine OK! Luncheon banquet is also possible ♪ 14 items 5500 yen 3 3800 yen As long as the reservation of customers 2.5H drink release!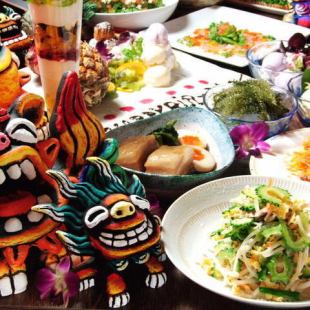 By using a coupon3800 yen
tax included
All-you-can-drink available

Premium malts, sour, cocktail, plum wine, awamori 30 kinds all you can drink ☆
Available days for reservation

Monday - Sunday - Public holidays - Holidays
☆ 2.5 hours all-you-can-drink with your reservation only! Great value for a taste of Okinawa creative cuisine at a reasonable price! You can fully enjoy Okinawa cuisine ☆
Course menu
Small bowl
■ Brown Beans
■ Korikori Mimigar
■ Arashi sushi roll egg
■ Original sea grape salad
■ Today's Recommended Match ~
■ Okinawa home cooking carrot shirisiri
■ The irritating irritating rough tea and vermicelli
■ Tempura of crimson red salmon
■ Spam Tempura
■ Soiled soki stewed slowly
■ Okinawa style "Hiraya Chi"
■ Okinawa soba or Ryukyu carrier noodles
■ Blue Seal Ice
※ 4 people ~ available
※ Reserved on the day
※ It is +200 yen, 2 hour system on Friday, Saturday, the day before the holidays
All-you-can-drink menu
·beer
· The Premium · Mortz
·sour
・ Oolong Hai / lemon sour / grapefruit sour / mango sour / guava sour / pineapple fruit sour / turmeric high / Shikuwasa sour / highball
·Cocktail
・ Jin tonic / Moss commural / vodka tonic / cassis (soda ・ oolong ・ orange ・ grapefruit) / lychee (soda ・ oolong ・ orange ・ grapefruit)
·Plum wine
・ Hachimitsu plum wine / dark blue plum wine / tea plum wine
· Awamori
・ Kariyushi
·Soft drink
・ Oolong tea / Sanpin tea / Shikuwasajusu / orange juice / grapefruit juice
・ Shochu ・ Awamori (+ 500 yen)
・ [Wheat shochu] Yaemaru / Milky Way / Wanko [芋 shochu] Black Kirishima / Ubi / Nanko [Awamori] Yume / Hundred Years Dream
・ Plum wine (+ 500 yen)
・ Red plum plum wine (shiso) / brown sugar plum wine (black sugar) / white crane plum wine (alcohol) / green tea plum wine (green tea) / black vinegar plum wine (black vinegar) / white bead plum wine (brandy) / old pine sky moon (wheat shochu)
Coupons that can be used with this course
2019/04/25 update